[ad_1]
WATERTOWN – Muralist Kelly Curry knew right away she wanted to create something on the graffiti-filled retaining wall along the town's Veterans Memorial Trail.
The artist from the Thousand Islands region is considering many possibilities to turn horror into the featured artwork of the Riverwalk Art Project, a multi-year initiative led by the Watertown Downtown Business Association.
"The wall intrigued me," she says.
Joseph Wessner, president of the Watertown DBA, says the retaining wall is the first step. The plan is to breathe colorful life into the Riverwalk Park along the Black River and propel the city into a northern cultural hub. The first piece of art will be a mural by numbers involving residents who will come together next Saturday to help create it.
Over the course of her 22-year career, Ms. Curry, 56, who also owns St. Lawrence Pottery in Clayton, has completed over 600 murals, interior and exterior, in seven states and two countries.
Last fall, the arts council was looking for artists to get involved in the Riverwalk project, when its name appeared. She attended a few meetings about the project and started giving advice on how it could be done, Mr Wessner said.
"She was very interested," Mr. Wessner said. "She had good ideas.
Ms. Curry was already known as a competent muralist in the north of the country.
Locally, his works include a mural of a train station on the building that houses Koffee Kove in Clayton and a fire department shield and two mallards in the Alexandria Bay fire hall, the St. Lawrence River in the restaurant Northstar, a vessel moored at the Cornwall Bros. Museum and men working on a building for Garlock Contractors, all in Alexandria Bay.
This time, his canvas will be the cement retaining wall of the municipal park. It's now full of graffiti, including a big red heart, a painted black SpongeBob character, vulgar language, and messages whose meaning is only known to the creators.
While she is not yet sure exactly what she will be creating on the wall, the mural will show what Watertown looked like before the town was settled in 1800 by pioneers from New Hampshire, who chose the area because of the Black River and its proximity to Lake Ontario. , about five miles away.
She plans to create a view of Watertown when only nature was there "to see what was here at the beginning". The mural will include his animals and plant life from the period before the north of the country was still untouched by development and the people living here. The Five Nations of the Iroquois came here in peace to enjoy its beauty, she said.
Working with acrylic paint and home paints, her inspiration is nature, she said.
She'll go through a long process to decide what she ends up creating on the wall. She is researching the history of the city. She will send out drones to search for the best viewpoints and take photos of different places to find the best angles.
When all of this is done, she will begin painting the 20ft by 64ft mural. The room will actually be painted on aluminum panels that will be mounted to the wall by workers from the city's public works department.
The mural will take between six and eight months. She donates her time to the project and has just started her fundraising efforts for the cost of supplies. She estimated that she would need around $ 65,000 to complete it. To donate, visit www.kellycurrymurals.com.
She is delighted to get to work.
Although the 20ft by 64ft mural is a medium sized room for her, it is a complicated project.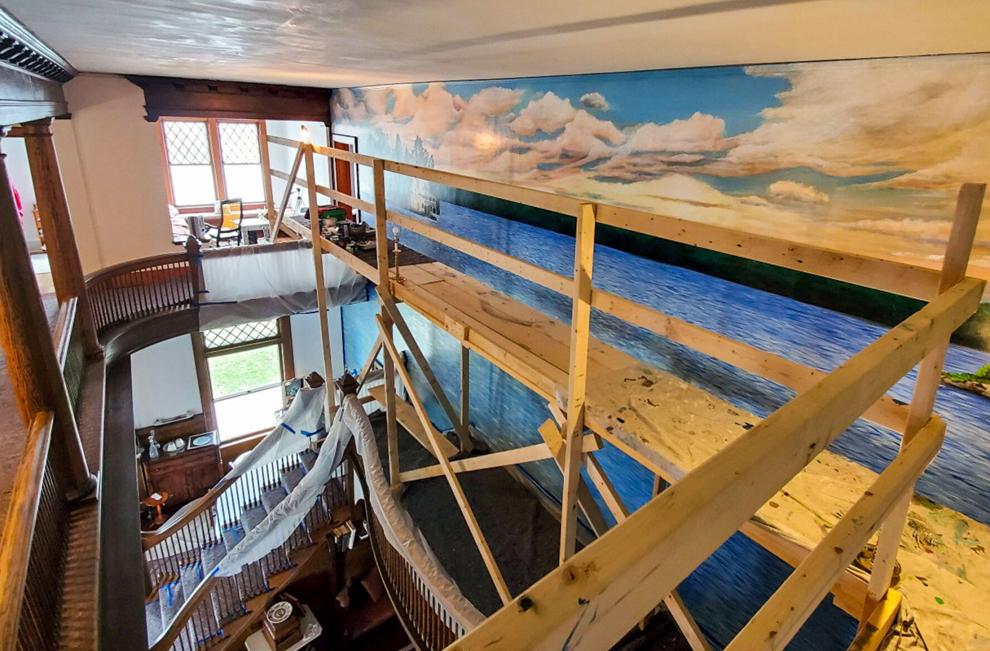 But not as complicated as a mural she made for a client who lives on Watch Island, near Grindstone Island on the St. Lawrence River. This interior mural depicts the life and history of the family on the river and the various boats they have owned.
The mural covers 30 feet, an entire wall and part of another, bypasses three doors and heads to a landing on the second floor of the chalet, built by the same men who built Boldt Castle.
She lived there with the family for several months while she created the mural and befriended them. She considers it to be her masterpiece.
"I want the wall to be my second masterpiece," she said.
She became an artist by chance.
Mrs. Curry was 36 years old and had quit her job to do a bit of everything in her father's water business in Buffalo. She was not satisfied with making $ 10 an hour and seemed to have no future there. She didn't know where her life was going.
Until she stopped to see a friend who knew Charlie Flagg, a muralist known for his artwork on barns and other rooms in western New York. The friend had just hung up on him, she recalls.
Before she knew it, he showed up at the friend's house at midnight and the two started talking about where her life had taken her and what was to come. for her, she recalls. He had a bit of character and suddenly asked her if she wanted to paint.
It was the start of his career as an artist.
"The minute I picked up a brush, I knew it would be special for me," she said 22 years later.
She remembered telling him that she would one day be paid tens of thousands of dollars to create her own murals. And he just laughed.
She painted her first mural in St. Petersburg, Florida, where she spent about three years before moving to New Orleans, just after Hurricane Katrina.
She needed some work and ended up temporarily putting down her brush for a bigger one to help her repair the damage caused by Katrina, working with three Dominicans. She slept on a plywood bed, covering herself with a roll of insulation.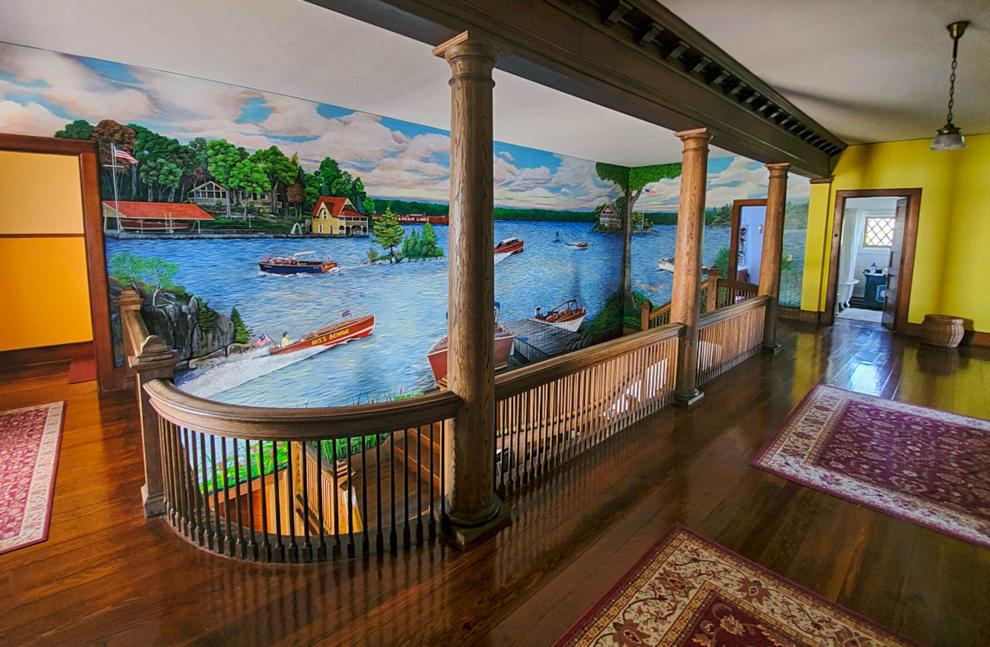 By chance, she met a woman who wanted a fresco painted in an old mansion. She ended up living in New Orleans for six years, where she created between 30 and 40 murals, some in the French Quarter and Jackson Square.
Along the way, she lived an interesting life. Her first husband was Van Miller's son, Van Miller Jr. Van Miller was the longtime voice of the Buffalo Bills. They became "football royalty" over the team's four Super Bowl races and met Bills legends Jim Kelly, Bruce Smith, Steve Tasker and others, she recalls.
Her second husband, Dave Curry, was with the Rare Breed Motorcycle Club in Buffalo, and she was riding a 1949 Harley-Davidson Panhead. She ended up selling the Harley to "Whiskey Dave" Harrington, who asked her to create some murals covering a place he owned in Buffalo.
"It was a cast of characters," she said.
Over the years, there are bumps and detours.
When she was just 18, Ms Curry had a serious car accident in 1984 that left her with a broken back, neck and hip. She recovered, but the injuries haunted her years later.
In 1998, spinal problems left her with paralysis. She underwent radical surgery to repair the damage.
Ms Curry is convinced that she had a near-death experience during the 14 hour surgery.
She recalled during the out-of-body experience seeing the surgeon put his hands inside her body while he was operating on her. She also saw a blue light that seemed to call her and some sort of "beings" that told her that it was not time for her to leave but to return to her life, she said.
She was successful and the operation was successful.
"It gave me the joy of living," she says.
And now, there's nothing quite like taking something dull and making a colorful story out of it, she said.
[ad_2]